---
A point just came up on WAU, and I thought maybe it would be useful to speak about it here as well, in more detail.

With painting, one of the things that is most talked and asked about is the consistency of paint, and how it should be applied. Many people - including me - do a lot of their painting, particularly the shading and highlighting, using many successive layers of very dilute paint to gradually build up the colours in certain areas of a mini. Very thinned paints used in this way are often called 'glazes'.

But I have been very unhappy using the term 'glaze' like this for quite a while: talking about a 'glaze' implies the painting of a very thin layer of paint over the whole surface, to slightly tint the whole area. So for example, if you were painting a red robe on a mini and the highlights became a little too light and chalky, you might use a glaze of a deep red colour, to paint over the whole surface of the robe and bring back some of the richness to the colours. It's like adding a thin filter of colour over the top of the whole surface, to change the appearance of the colour underneath. Inks are good for this, because they are very intense in colour, are also maintain their translucency indefinitely - inks will remain 'see-through' no matter how many layers you use.

So, this is why there is a problem, because when I am talking about 'glazes' I am almost always NOT meaning a glaze as defined above; rather, I am talking about using successive layers of dilute paints in certain section only, not over the whole surface, in order to build up shading or highlights.

And neither am I talking about a 'filter' to tint the colours underneath: although the paint should be very dilute and translucent at first, the objective is to build up its opacity with many successive layers, to achieve a smooth transition between colours. This is why it is best to use paints rather than inks for this technique, because the opacity of paint will gradually build up with multiple layers, even if very dilute, whereas inks maintain their translucency. The key is to use only a small amount of paint – just enough to cover the surface. This gives more control and prevents the graininess or 'tide marks' that can occur when too much paint is used.

This means that we can't call it a 'wash' either: a wash floods the whole surface so that the paint will collect in the recesses naturally and provide shading, but the technique I am talking about is more controlled than that.

So what on earth should we call it?!

When you read French painting articles, the word they use to describe this technique translates as 'juices' – they talk about applying a 'juice' of bestial brown, say, to parts of the surface in order to shade them. Calling it a juice may be a little amusing for us haha, but I think the term is actually pretty good – what you should be aiming for with your paint is a juice-like consistency, very watery with a hint of colour. So maybe we should start calling them juices from now on!


I always find all this so hard to explain when writing – my language fails me! So here is a diagram, hopefully it will make this easier to understand: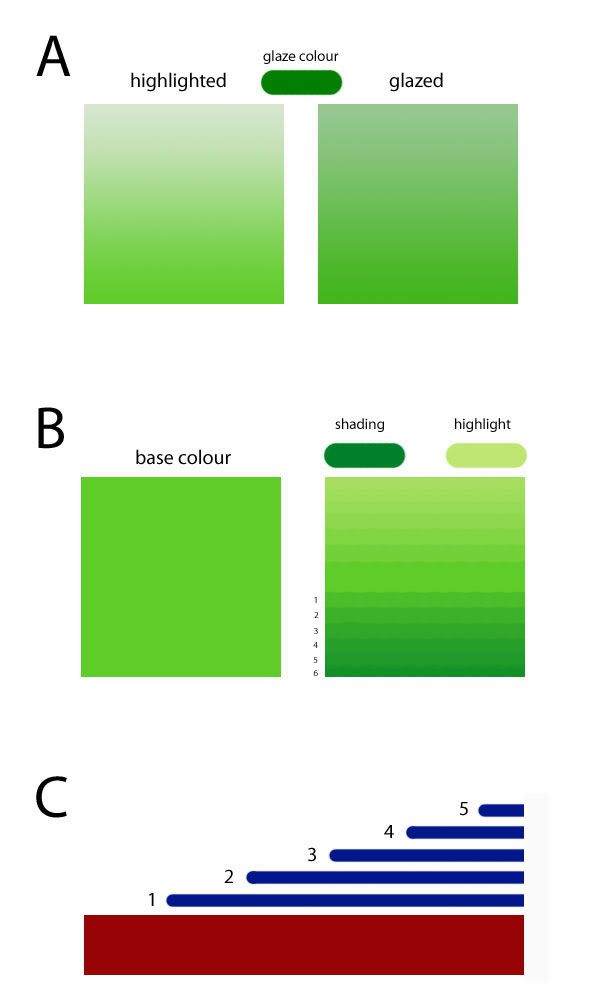 Example A shows how a glaze should work. On the left we have a surface that has been highlighted. If you felt that the end result was a little to light and chalky, and you wanted to bring back a more 'green' aspect to the area, you might apply a glaze over the whole surface. In this example, I have put a layer of a dark green glaze colour with an opacity of 20% over a surface identical to the one on the left – as you can see, the result gives a richer green colour while maintaining – and sometimes even smoothing - the transition from dark to light. A glaze should be painted with very dilute paint – you can always do more layers if you want a stronger tint of colour, but you can't erase layers if the colour is too strong.

The important thing to remember is not to flood the surface as you would with a wash, because this will result in an uneven spread of the pigment as the paint dries. Instead, you should try to use just barely enough paint to cover the surface, which will prevent the pigment from flowing into the recesses and creating a patchy effect.


Example B shows how the application of 'juices' for shading and highlighting is supposed to work. The square on the left has had a mid-tone base colour applied. Then, an identical square on the right has had a series of 5 or 6 juices – very thin layers of paint – applied over the base coat, in order to shade and highlight. The colours of the juices are shown at the top. A dark, more blue-ish green for the shading colour, and a light, more yellow-ish green as the highlight colour.

The juices had an opacity of 20%, so the colour built up to be stronger – more opaque – as the layers were painted on top of each other. Looking at the shading part at the bottom, that I have numbered, you can see that layer 1 – the part that has been painted by the first juice only – has only had a slight darkening in colour. The paint is very translucent so the surface in that section has only been tinted slightly. The second layer is darker, because it has had two layers painted onto it – so the juice colour has become more opaque. And so on with layer 3, 4 etc.


The gradual transition between the base colour and the shading or highlighting colour is achieved by slightly withdrawing the area that is covered by each successive layer of paint. I tried to show this with example C. The red layer at the bottom represents the base coat – pretend you are looking at the surface of the mini horiztonally, from side on. The blue stripes represent the layers that we are going to paint onto the surface.

Let's say we wanted to shade this surface, so that it gets darker as you move to the right. The first blue stripe represents the first layer of paint. It covers most of the surface, but because it is a dilute 'juice' it only slightly tints the area that it covers. After it dries, we paint the second layer over the top, represented by blue stripe number 2. But this time, we don't paint over all of the area covered by layer 1; instead, we draw back a little, covering less area. So, only the area covered by stripe 2 gets a step darker, and we have created a more gradual transition between the base coat and layer 2, by having some of layer 1 left in between. Then the same for layer 3 – it withdraws a little more, getting a step darker, creating a gradual transition. And the same for layer 4 and 5. So, you can see that the right side of the base coat has had 5 layers of paint applied on top of it – so this area will be the darkest. But then the surface steps down to 4 layers, 3 layers, 2 and 1, making a transition from dark to light.


Well, I hope this makes sense to people – the language is still so clunky, but maybe with the visuals you will understand what the hell I am talking about, if you haven't understood previously. This is of course very simplified – but the important thing to understand is the concept of what you trying to do with the 'juices'. To obtain super smooth transitions, you can apply many, many layers…I have heard of people painting 70, 80, 90 layers in this way. But because the paint you are using is so dilute, it won't build up and obscure the detail – most of what you are painting onto the surface is water, which will just evaporate away.

If I have been utterly confusing to anyway just ask me to try to clarify things and I'll do my best!!


-sebastian


p.s. everyone start calling them juices - we have to convert the English-speaking painting world!!! haha