We have a few newer members, and some other people have recently expressed difficulty understanding how to post photos on the forums.
In this article, I'm going to run through how to post photos, as well as a few places you can upload photos etc.
So, to jump in a bit, I'm going to walk you through how to post photos, and then show you where I was getting the link to the photo from.
So, while you're in a post, go to the "Img" button above the text you are typing, and click it:

You'll get a paint of IMG tags which appear in your text where you were typing last:
And between them, paste the URL of the image you want to post (I'll show you how to get these in a moment)

So, I need a URL for the image. Where do I get that from?
I'll start by showing you where to get them from on a simple webpage, so let's use the OzPainters logo at the top of the page. Go to an image you want to get the URL from, and right click on it to get a menu. Among the options, you'll get an option to copy the image link or URL: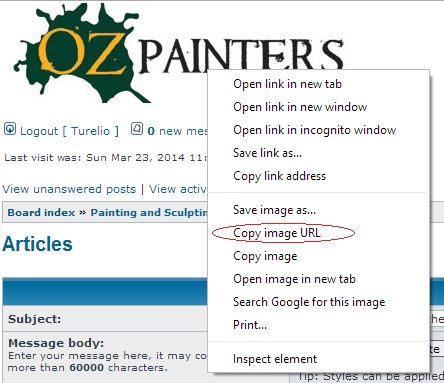 The URL you want will be copied directly into your clipboard, so when you paste it, you'll get the link you need straight away. Simples!
So I can get the link I need, and post the image. What about my images? How do I get them loaded onto the net in the first place?
Well, there are a few options. If you've got a public Facebook blog that you load images onto, you can use the steps above to get an image from Facebook, or even CMON if you have already loaded the images there. Just be careful that the original image size will be posted, so if the source of the file isn't a small image, you could accidentally load an image large than the screen. Please try to avoid this.
Now, if you haven't uploaded the images anywhere yet, you can use something like
http://s2.photobucket.com/
or
http://imgur.com/
to load them on. You just need to create a free account and load them onto there. Once loaded, you can use the same steps above to get the URL, and in some cases there will even be an option on the image page to copy the link with one click, which will speed it up a bit.