or with dark armour you can use even darker colour for chips like my temi
IT DONT HAVE TO BE BLACK ~!!!!! PLEASE NOTICE BLACK IS THE VERY LEAST COLOUR THAT YOU WANT TO USE
i ll explain why later on
use a darker colour
with the white line under it usually it dont have to be white all the time it can be a mixture of armour colour with white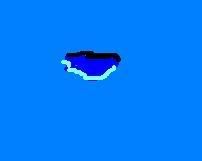 also long line scratch is very popular
it is important to know
at the end of the line it should be sharp
also from my exps if there is any branch coming out it is better
here you go ~
and if you use sponge tec
the chips will turn out like this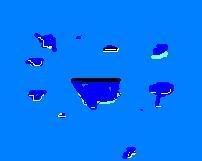 USUALLY IF THE CHIPS IS TOO SMALL CAN JUST LEAVE IT ~! you dont need to put a white line under every chips ~!
also with those small chips if you want make it looks like a scratches put pure white under it make it look like a deep chips also the chips colour is darker then normal chips colour( well i probably didt explain well in this part so feel free to ask me question)
also it is worth to mention that the chips on the highlight part should always be lighter then the chips in the darker part
for example the power fist ~ on the top part the chips is lighter but on the bottem part the chips should be darker due to the obvious reason
well this is tricky i m still practising on it hope someday i can give you a better example.
ok lets move on to bullet holes
this mini is a perfect example .
usually i did a little bit high light on the"tears" part make it more interesting
also if it is a white armour you can also do over all weathering
well cyril marine give you a very good idea .
ok thats is all i can think up at the moment ~ if any more things come to my minds i ll add it up
so far you need to pay attention
1 the amount control
2 the size control
3 the shape control
as long as you did all these three right your scratches will looks as good as sebs
happy weathering and happy easter
(ps if you guys got any good weathering tec plz feel free to share)
_________________
"psychotic megalomaniacal rant" X
NO MORE PIZZA ROLL FOR YOU!!!!!!!!!