Camel = Convert And Meet, Eat Lots!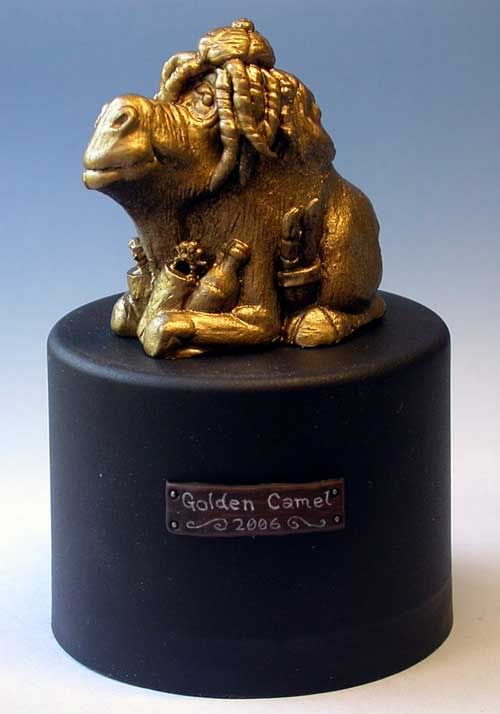 It's Golden, because that's the same colour as the Golden Demon.
The Golden Camel began life as a a small thing I organise as a chance for painters to catch up (usually Games Day/Golden Demon is the only time of the year we are all in one place). We would traditionally go to Thai La-Ong in Newtown for a banquet after the Demons each year.
Two years ago, it got given the name Golden Camel because I sculpted a camel and Redwarf decided to cast it up with gold pigment as a prize for some speed painting during dinner. This was born the tradition of the Camel.
The painting and sculpting thing is totally secondary and just a bit of fun, modelled (excuse the pun) after the French Extreme Painter get togethers.
Our previous sponsors (lol, I use this term lightly, usually I go begging for whatever scraps they can spare for us to play with):
Mainly Medieval Books/ASACS: tools and putty (byo saliva)
Games Workshop: old miniatures for us to chop and convert
Matisse-Derivan: foolishly letting us paint with a full set of their paints over dinner
Rob Jedi: many many many old brushes
Not sure who will jump on board this year, but it's always fun and spontaneous!
So anyway, this year:
Price: $20 per head, BYO alchymhol drinks. This is for a 3 course Thai banquet (soft drinks and water included).
RSVP: ASAP! As I have to book the function room at Thai La-Ong.
Date: The Saturday Night on the GD finals weekend.
How to get there: Gracious Sydney painters will carpool visitors from Parramatta and drop people back there (or somewhere not too far away).
Attendees for 2006:
arithorn + 1
automaton
battle-bunker
benji
ben$quig
Demosthene(jonathan =I=)
numbat
panzer
rob Jedi
redwarf + 1
shgray
slardy
weisern + 1 (mark)
vic
xerofis
zach + 1 (luis)